Installation
INDI SBIG driver supports all of SBIG line of CCD cameras and filter wheels. Dual CCD cameras and sending guiding corrections via ST4 port is also supported.
The driver is available for download as a 3rd party driver from INDI's download page. Under Ubuntu, you can install it via:
sudo add-apt-repository ppa:mutlaqja/ppa
sudo apt-get update
sudo apt-get install indi-sbig
Features
INDI SBIG driver supports all SBIG family of CCDs/Guider and Filter wheels. Both USB & Parallel Port versions are supported. Mono and color CCDs are fully supported as well. INDI SBIG drivers are available for 32bit, 64bit, and ARM v5/v6/v7 architectures. The installer auto detects your architecture and installs the appropriate driver accordingly.
Operation
Before connection, you verify the device port setting. If you are connected via USB, the port should be sbigusb0 or sbigusb1 (if you have more than one SBIG connected)...etc. For parallel port, the port should be sbiglpt0...etc.
Once you're connected, you can capture images as FITS from the camera, control temperature, and set image binning and frame subset. The driver will automatically upload these images to the client in FITS format. If your camera is equipped with a filter wheel, you can control the filter wheel from the Filter Wheel tab where you can change filters and set their respective names.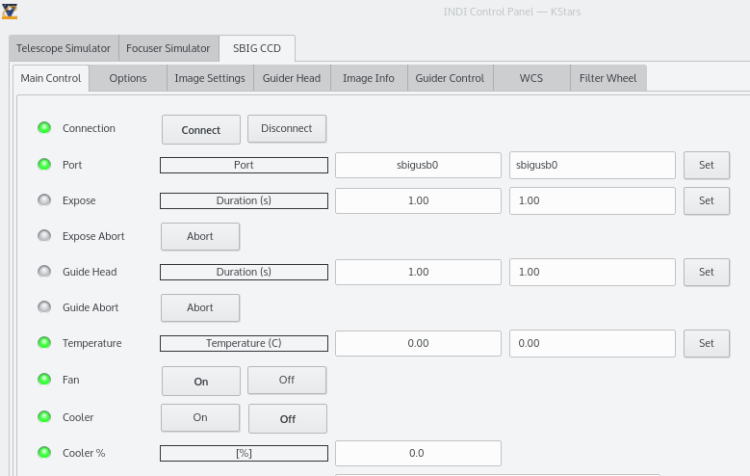 ---
The drivers supports saving World-Coordinate-System (WCS) information in the FITS header. WCS enables you to view the image coordinates (RA/DEC) in several FITS editors. Furthermore, if WCS is enabled, you can click any where inside your image and slew to the mount to that particular point which greatly facilitates framing.
Fan and cooler control can be set in the Main Control tab. If you are using the CCD as a guider, clients such as PHD2 and Ekos, can be used to guide your mount.
For CCDs that come with a guide head, you can set the parameters of the guide head in the Guider Head tab including subframing and image type.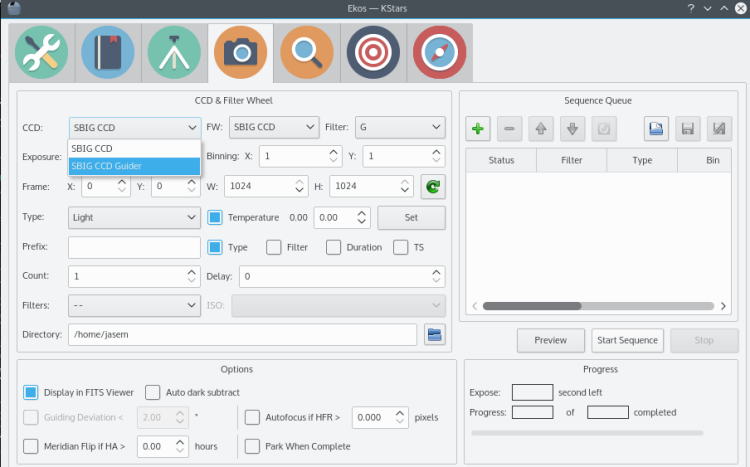 Issues
The current SBIG Universal Library for Linux has a bug that prevents FAN control. SBIG was alerted to the issue but has no issued a fix yet.
The SBIG driver only support one-camera-per-driver, so if you have more than one SBIG camera, you need to start a dedicated instance to each camera.
The driver supports taking BIAS frames, but please note that the bias frame are captured using the minimum exposure time as supported by the camera and might not represent a valid bias frame. It depends on the minimum exposure time supported for each model.
If you controlling the cameras locally then the client should take of starting a separate instance for each driver. However, if you are operating the cameras remotely, then you need to start and rename each instance. For example, suppose you have an ST8 CCD as the primary camera and STi CCD for guider. To start separate instances for each driver remotely, start INDI server in FIFO mode:

mkfifo /tmp/indififo
indiserver -v -f /tmp/indififo

Then open a separate console, and then start each driver:

echo start indi_sbig_ccd -n \"ST8\" > /tmp/indififo
echo start indi_sbig_ccd -n \"STi\" > /tmp/indififo

If you are using Ekos, make sure to go to Ekos options in KStars settings, and set the CCD to "ST8" and Guider to "STi" before you try to connect.

There are no known bugs for this driver. If you found a bug, please report it at INDI's bug tracking system at SourceForge. (You can log in with a variety of existing accounts, including Google, Yahoo and OpenID.)