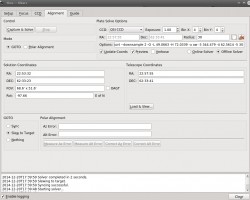 INDI Development team is happy to announce the release of INDI Library v0.9.8. Following are the highlights of this release:
Support for Telescope Alignment Subsystem Infrastructure. This includes an implementation of Markley's singular value decomposition (SVD) based algorithm for the computation of sky/telescope coordinate conversion transforms, in addition to multiple plugin support.
Support for SkyWatcherAPI Mount with Alignment Subsystem.
Support for ZWO Optics ASI Cameras (3rd party).
Support for AAG Cloud Watcher station (3rd Party).
Support for MoonLite focusers.
Support for Fishcamp CCDs (3rd Party).
Support for Imager Agent.
Improved EQMod driver including custom parking position.
New and updated Astrophysics mount driver.
New and updated QHY CCD Driver (3rd Party).
New and improved GPhoto driver to support DSLRs.
New and updated Video4Linux CCD Driver including support for long exposures (LX) and Imaging Source cameras.
New and improved Apogee CCD driver.
Improved support for SBIG CCDs including ST-I.
Updated and improved TCFS Focuser drivers.
Drivers migrated to libusb 1.0 framework.
Rapid Guide Support for CCD Drivers.
Improved compatibility with Mac OSX including INDI Server and GUI.
Various bug fixes and improvements.
Source and Ubuntu packages are available for download.