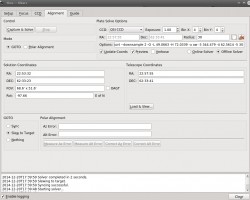 INDI Development team is happy to announce the release of INDI Library v0.9.9 on August 30th, 2014. Following are the highlights of this release:
Thread-safe INDI Library.
Support for Rigelsys NFocus Focuser driver.
3rdparty: Additional VID/PID for QHY.
3rdparty: added USB Bandiwdth control for ZWO Optical cameras.
3rdparty: Updated and improved INDI Apogee driver and Apogee Library major update.
3rdparty: Live preview support for GPhoto driver. Tested on Canon.
3rdparty: Various bugfixes and improvements in INDI SBIG driver including working guide chip support.
3rdparty: Fixed time drift error in EQMod. Added Horizon limits. Added Backlash compensation.
Updated and improved Image Agent.
Improved Astrophysics driver support.
Fixed location bug in Celestron GPS driver.
Additional information in FITS header such as filter name.
Joystick support for focuser and filter wheel devices.
Added option to enable local & remote save for FITS images in all CCD drivers.
Older V4L driver is deprecated (indi_v4l_legacy) and is replaced by indi_v4l2_ccd
V4L2: added recording (SER files) for use with Registax
V4L2: added RGGB & UYVY pixel format support to V4L2 drivers.
V4L2: fixed LX long exposure times.
Updated and improved tutorials.
Fixed few OSX compatibility issues.
Various bug fixes and improvements.
Source and Ubuntu packages are available for download.