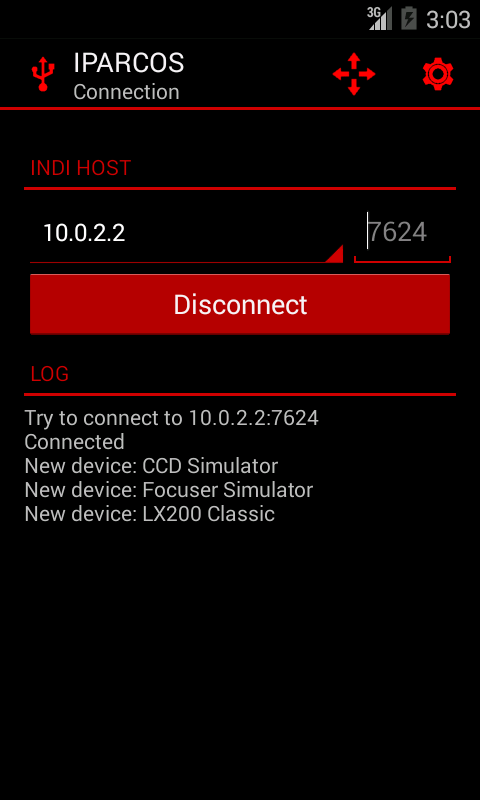 The first release of IPARCOS (
I
ndi
P
rotocol
A
ndroid
R
emote
CO
ntrol
S
oftware) is available for download & testing. It features a generic control panel and others specialized tools to easily control your devices.

The project main site is github.com/farom57/IPARCOS/

I. Features
Generic control panel compatible with every devices (BLOB not yet supported)
Control of the telescope motion by means of a directional pad and speed buttons
Languages: English, French
II. Download and install
From Google Play:

From the .apk file:

Check the release page on the github project to get the .apk: github.com/farom57/IPARCOS/releases
You need to allow app installs from unknown sources in Android settings (Settings > Security > Unknown sources)
III. Usage
1. Prerequisite
Minimum Android version: 4.0.3
An INDI server must be running on the remote computer.
You must have a network access to this computer.

To achieve this, the Android device and the remote computer can be placed on your home network.
Alternatively, you can create a wireless network with your Android device and connect the remote computer to this network (the PC address is likely to be 192.168.43.71)
2. Connection
Choose the server address in the list or touch "Add server" to add a new server in the list
Optionally, you can change the port number if you do not use the default value for the INDI protocol (7624)
Click on "Connect"
3. Use the generic control panel
Click on the gear icon in the action bar to display the generic control panel
Use the tabs to switch between the devices
The properties of the device are displayed in a list. Click on a property to edit it or show the details.
4. Control the telescope motion
Click on the icon with four arrows in the action bar to display the telescope motion control panel
The buttons will be enabled (red) or disabled (grey) depending on the devices features.

The arrows are enabled if one device provide the TELESCOPE_ABORT_MOTION, TELESCOPE_MOTION_NS and/or TELESCOPE_MOTION_WE properties
The + and - buttons are enabled if one device provide the standard property to control the speed (TELESCOPE_MOTION_RATE) or the LX200 style property (Slew Rate) or the EQMod style property (SLEWMODE)
If the device is not connected, the properties may not appears and the buttons will be disabled
IV. Developed by
Romain Fafet (farom57)
Zerjillo
V. License
The code is released under the GNU General Public License and is available at github.com/farom57/IPARCOS/